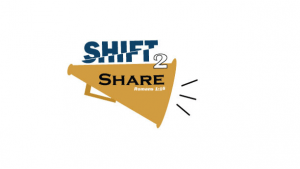 RO 1:16 For I am not ashamed of the gospel, for it is the power of God for salvation to everyone who believes, to the Jew first and also to the Greek.
Why is this theme important to our church? It reminds us of our personal responsibility and our mission to share the gospel.  Did you know that most Christians don't share the gospel and if they do, it's a rare occasion?
According to Lifeway Research, based on survey responses from 1,011 American Christians who were interviewed between April 12–23, 66% of Christians are not familiar with any "methods for telling others about Jesus." The Lifeway survey also revealed that 70% of Christians have not shared with a stranger how to become a Christian in the past six months.
As a pastor, my focus is centered on solutions so I asked myself, how do I help our people shift to sharing the gospel, hence shift2share? I compiled a list of shifts that need to be made in part or in whole by Christians to share the gospel. Which shifts do you need to make to share the gospel?
(1) Lordship – [submitting to God as the supernatural authority in the universe. Putting God first.]
RO 10:9 because, if you confess with your mouth that Jesus is Lord and believe in your heart that God raised him from the dead, you will be saved.
Php 2:8 And being found in human form, he humbled himself by becoming obedient to the point of death, even death on a cross. 9 Therefore God has highly exalted him and bestowed on him the name that is above every name, 10 so that at the name of Jesus every knee should bow, in heaven and on earth and under the earth, 11 and every tongue confess that Jesus Christ is Lord, to the glory of God the Father.
(2) Obedience [doing what God tells us to do in the Bible because we love God]
Jn 14:15 "If you love me, you will keep my commandments.
1 JN 2:3 And by this we know that we have come to know him, if we keep his commandments. 4 Whoever says "I know him" but does not keep his commandments is a liar, and the truth is not in him, 5 but whoever keeps his word, in him truly the love of God is perfected. By this we may know that we are in him: 6 whoever says he abides in him ought to walk in the same way in which he walked.
(3) Passionate prayer [praying for people who are living in unbelief and asking God to help us share the gospel with them.]
RO 10:1 Brothers, my heart's desire and prayer to God for them is that they may be saved.
1 TI 2:1 First of all, then, I urge that supplications, prayers, intercessions, and thanksgivings be made for all people, 2 for kings and all who are in high positions, that we may lead a peaceful and quiet life, godly and dignified in every way. 3 This is good, and it is pleasing in the sight of God our Savior, 4 who desires all people to be saved and to come to the knowledge of the truth.
(4) Inviting others [at the very least invite people to join you in worship and Bible study as an opening for them to hear the gospel and for you to share your testimony.]
Jn 1:40 One of the two who heard John speak and followed Jesus was Andrew, Simon Peter's brother. 41 He first found his own brother Simon and said to him, "We have found the Messiah" (which means Christ). 42 He brought him to Jesus. Jesus looked at him and said, "You are Simon the son of John. You shall be called Cephas" (which means Peter).
LK 14:22 And the servant said, 'Sir, what you commanded has been done, and still there is room.' 23 And the master said to the servant, 'Go out to the highways and hedges and compel people to come in, that my house may be filled. 24 For I tell you, none of those men who were invited shall taste my banquet.' "
(5) Training and equipping [it is your personal responsibility to get training to share the gospel and make disciples.]
EPH 4:11 And he gave the apostles, the prophets, the evangelists, the shepherds and teachers, 12 to equip the saints for the work of ministry, for building up the body of Christ,
(6) Memorizing scripture [memorizing scripture is necessary to prepare yourself to share the gospel under any circumstances.]
PS 119:11 I have stored up your word in my heart, that I might not sin against you.
COL 3:16 Let the word of Christ dwell in you richly, teaching and admonishing one another in all wisdom, singing psalms and hymns and spiritual songs, with thankfulness in your hearts to God.
(7) Personal testimony [prepare your testimony so your ready to share your story of salvation with others.]
1 PE 3:15 but in your hearts honor Christ the Lord as holy, always being prepared to make a defense to anyone who asks you for a reason for the hope that is in you; yet do it with gentleness and respect,
You are an eyewitness. Tell your story of how you were saved by grace through faith. Tell how God has changed your life.
(8) Going with someone [going with someone helps you to grow in sharing the gospel and provides accountability.]
LK 10:1 After this the Lord appointed seventy-two others and sent them on ahead of him, two by two, into every town and place where he himself was about to go. 2 And he said to them, "The harvest is plentiful, but the laborers are few. Therefore pray earnestly to the Lord of the harvest to send out laborers into his harvest. 3 Go your way; behold, I am sending you out as lambs in the midst of wolves.
(9) Lifestyle [as you make the necessary shifts in your life, your lifestyle will be characterized by sharing the gospel and making disciples.]
AC 1:8 But you will receive power when the Holy Spirit has come upon you, and you will be my witnesses in Jerusalem and in all Judea and Samaria, and to the end of the earth."
MT 28:18 And Jesus came and said to them, "All authority in heaven and on earth has been given to me. 19 Go therefore and make disciples of all nations, baptizing them in the name of the Father and of the Son and of the Holy Spirit, 20 teaching them to observe all that I have commanded you. And behold, I am with you always, to the end of the age."
(10) Mentoring [we need to grow beyond just learning and start helping others learn. Therefore, be mentored so you can mentor others.]
2 TI 2:1 You then, my child, be strengthened by the grace that is in Christ Jesus, 2 and what you have heard from me in the presence of many witnesses entrust to faithful men, who will be able to teach others also.
This is a list of shifts that you need to make in part or in whole to share the gospel. Why is the theme Shift2Share important to the church? By in large, the church is not sharing the gospel. Along with that, people are dying and going to hell.  We need to warn them and share the good news of the gospel so they know there is hope for them.
RO 10:14 How then will they call on him in whom they have not believed? And how are they to believe in him of whom they have never heard? And how are they to hear without someone preaching? 15 And how are they to preach unless they are sent? As it is written, "How beautiful are the feet of those who preach the good news!"
A Work in Progress,
Gene