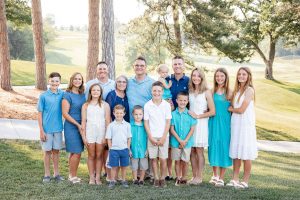 Pastor Gene grew up in a family of 6 in Western Ohio. He has 2 sisters and a brother. His mother is still living and resides in the same house where he spent most of his years growing up. Gene became a Christian at age 17 and was baptized at Immanuel Baptist Church in Arcanum, Ohio. After graduating high School, he got married to Cheri and enlisted in the Air Force. During his first assignment at Little Rock Air Force Base, Cheri gave birth to their two sons, Joseph and Aaron. Also during this timeframe, Gene began work on a Computer Science degree primarily at Central Arkansas University. He finished this degree later at Texas Lutheran University after being reassigned to Randolph Air Force Base just outside San Antonio, Texas. Soon after finishing his Bachelor's Degree, he was accepted to the Air Force Officer Training School and upon completion of this training he was commissioned as a 2nd Lieutenant.
After attending training in Mississippi, Gene and his family moved to Colorado Springs where he was stationed at Peterson Air Force Base. Gene also worked in the Cheyenne Mountain Warning Center during this assignment. In addition to working, raising a family, serving in a local church and coaching, Gene began work on a Master's Degree at Colorado Technical University. During his time in Colorado Springs, Gene was later reassigned to the Air Force Academy where he worked in communications. Upon finishing a Master's Degree at Colorado Technical University, Gene began teaching as an adjunct in the Computer Science Department of the Air Force Academy.
After a promotion to Captain during his assignment at the Academy, Gene and the family moved to Winnipeg, Manitoba, Canada where Gene was assigned to the Canadian NORAD Region Headquarters. After completion of this short-term 2 year assignment, Gene and the family moved to Omaha, Nebraska where Gene was assigned to the United States Strategic Command at Offutt Air Force Base. In the period of this assignment, Gene and Cheri saw their son's graduate high school and begin college. Upon receiving notice of a reassignment after 4 years at the headquarters, Gene retired from the Air Force in the rank of Major after serving over 25 years.
Retiring from the Air Force at this point was not what he had planned. Instead of taking this new assignment, Gene accepted God's call into ministry. As he began to take seminary classes, Gene worked at Lockheed Martin for a little over a year before being called to pastor a start-up church with 21 members in Sioux City. Soon after he was called as the pastor he was ordained. A few years later, Gene finished a Master of Arts in Religion degree from Liberty Baptist Theological Seminary. Gene has remained at Heartland Community Baptist Church as Pastor since 2005 where he has overseen tremendous growth, the purchase of land and a building program.
During his military career, God also made use of this time to train him in ministry. Gene and Cheri had the privilege of serving in a number of growing churches. Gene learned to teach, lead and even preach. Gene taught Sunday School, led small groups, served on building program committees and served as a deacon.
Even though Gene was very busy with his military career and church ministry when his sons were growing up, he made time for family. Gene coached young boys in football, basketball and baseball. He would also be found quite often on the golf course with his sons as they got older.
Cheri and Gene are now proud grandparents of 9 grandchildren.